When are you suitable for this step?
Are you embarrassed when you hand out your business card?
Your eyes sparkle at the sight of business card your partner is handing you out and then you reluctantly give out yours. The one you've been using for years even though your company has grown and developed! Your card does not represent your story anymore and you therefore are not representing quality and consistency of your company.
Currently on a bad reputation?
Nobody's perfect – we all make mistakes. There are solutions! A good brand can help you recover and regain trust and authority on your field.
Are you afraid for the future of your company?
You cannot keep up with ever-changing technology so your competitors are leaving you behind. We collaborate with ambitious brands and people; we'd love to build something great together.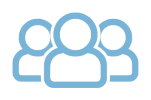 "Users will forget what you said, forget what you did, but they will never forget how you made them feel. "
Creating brands
Without branding, a company, product or service hardly exists. No personality, no character – the invisible brand.  We use the broad spectrum of skills and disciplines to build a complete brand. From strategy, positioning, to more tangible cues such as colour, typography, graphics, photography, illustration and design. Combined, these elements play a crucial role in creating an unforgettable brand, not just a new name, logo or visual identity.